The Lovering Cemetery in Raymond, New Hampshire is not the serene, bucolic landscape you'd expect from a quaint New England cemetery. It sits at a sharp curve on Chester Road near its intersection with Brown Road. Traffic is pretty brisk and the cemetery entrance is less than 10 feet from oncoming cars. But many generations of Loverings lie here and the relationships between them are both interesting and puzzling.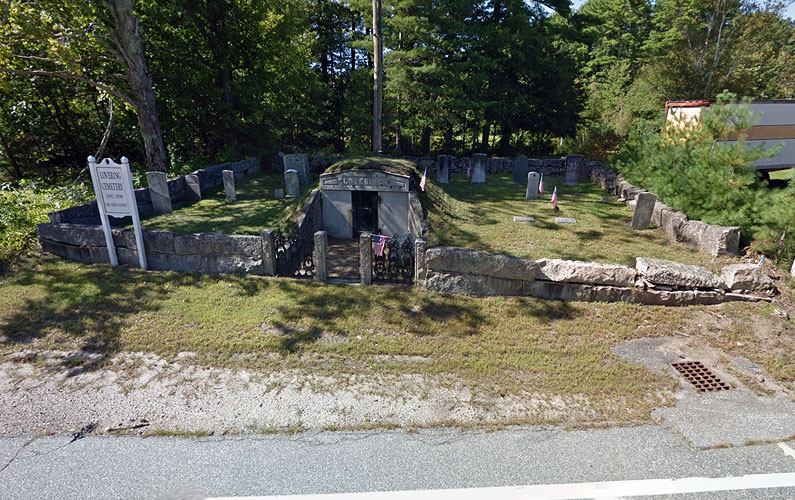 A wooden sign proclaims this is the "First tomb in Raymond" – referring to Abigail Clough, wife of John Prescott Lovering, who died in 1795 (her stone says 1795 – the Dudley family genealogy says 1796). Of the 24 interments listed there on FindAGrave.com, the majority are directly related to John Prescott & Abigail. His son Theophilus Lovering, a soldier during the American Revolution is here along with his wife, children and some grandchildren. His daughter Molly and son Daniel are here also.
However, the door of the giant tomb is a puzzle: "LOVERING. 1874" I have no records of any Lovering dying in 1874 nearby. Another clue is the Civil War marker on the hill to the right of the tomb which reads, "SOLDIER 22 G.A.R." This may refer to Post 22 of the NH Grand Army of the Republic (now the American Legion). Post 22 was located in Rochester, about 27 miles away. However, none of the documented graves are Civil War veterans. It appears that there are folks within the tomb (which is padlocked) who do not have stones outside the tomb.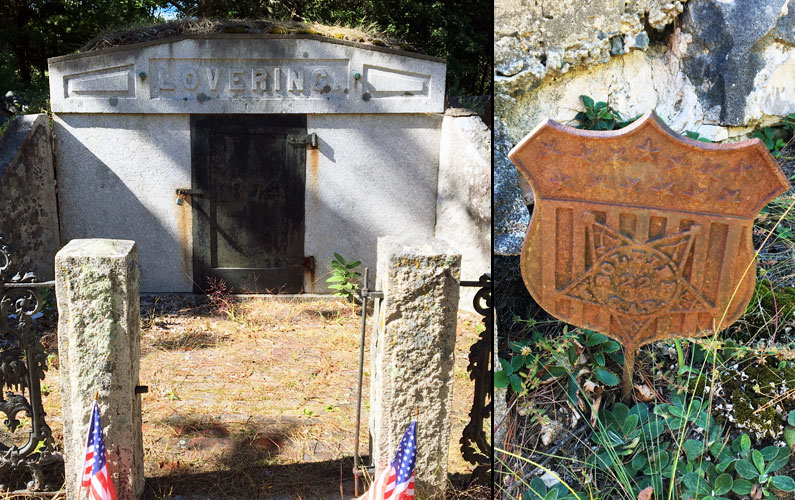 With some research I was able to find at least a couple of the occupants of the big tomb. John W. Lovering (1856-1923) and his wife Sarah Priscilla (Sanborn) Lovering (1851-1923) ran a successful wooden wares manufacturing business in nearby Sandown. Some amazing photos of their home and mill are included in the published town history. The home is still standing but the mill burned down in 1922. In Sarah's will she bequeaths funds for the perpetual care of the Lovering Cemetery.
So you might assume that John W. was also descended from the same group buried there – but he is not. If you connect John W. with the original John Prescott Lovering you'll find they are only 6th cousins 3 times removed! The figure below shows the connection. I wonder whether John & Sarah knew the true distance of the connection or if they assumed they were much more closely related. Frank Lovejoy (John W.'s nephew) and his wife Harriet are the most recent burials here.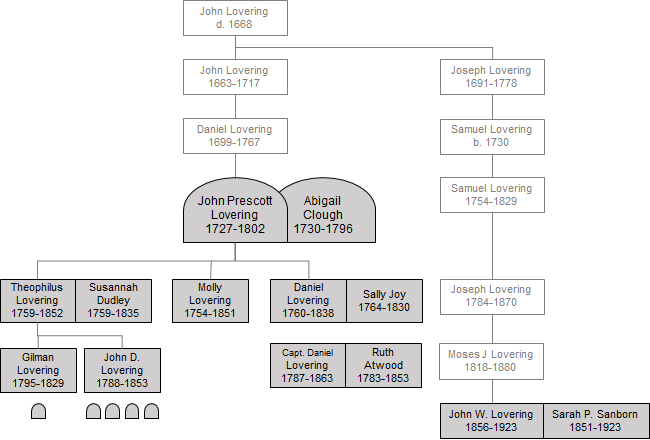 Who, and how many, are buried in the tomb? Time and more research will hopefully provide more answers. But it is satisfying to see branches of the family reunited.